HELLO, MY NAME IS YAZZ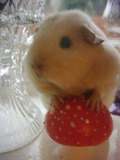 CAN YOU HELP ME FIND HOMES FOR MY FRIENDS?

PLEASE READ OUR ADOPTION POLICIES
Our pigs are rehomed as pets and not to be used for breeding. They are not to be housed with rabbits or birds. Indoor homes only will be considered.Single pigs will not be rehomed where no other piggies are kept. If you are unable to keep or look after your adopted piggy, for whatever reason, you must return him/her to the rescue. Thankyou.
There is a minimum adoption fee of £15 per pig

If you wish you can bring your pig back to us for a checkup , we will trim their claws and treat for mites etc. There is no charge but a donation would be appreciated.